Description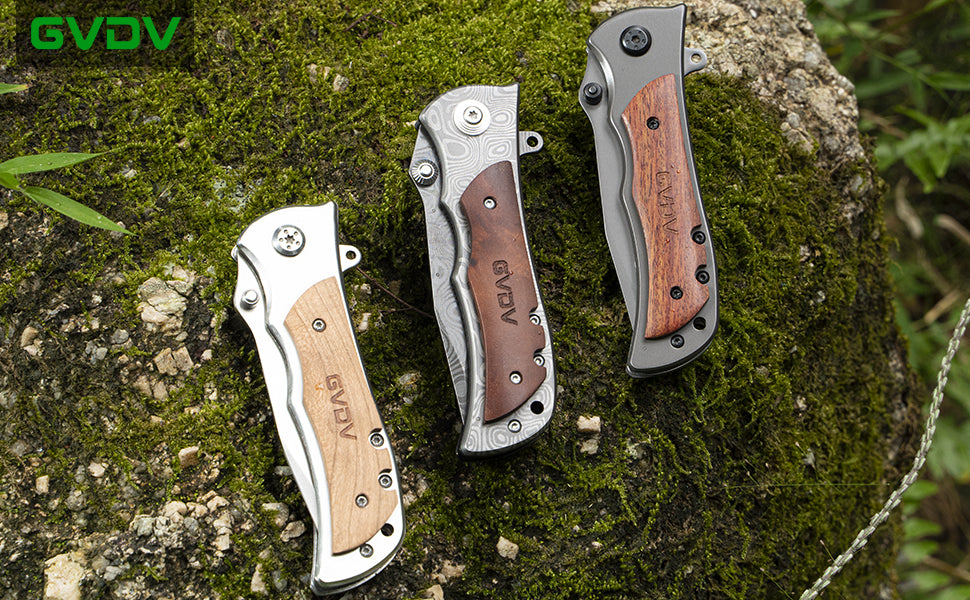 GVDV Hiking Folding Pocket Knife Safety Lock
1.Ergonomically designed wooden handle ensures comfortable handling.
2.The biggest feature is that the blade is very sharp and sturdy. Durability, quality and overall design is exceptional.
3.The pocket knife can be folded. There is a clip on the wooden handle and a drawstring bag for safe storage when not in use.
4.It is a sturdy folding knife for outdoor camping, hunting, hiking, rope cutting and other daily cutting housework.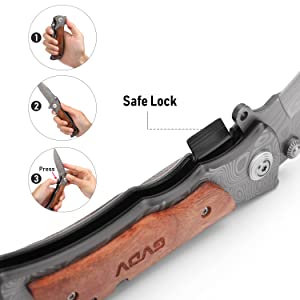 How to use-Personalized liner locking system
1.You simply push down on with your thumb and that releases the locking mechanism.
2.The lockbar butts up against the blade's backend to prevent closure.
3.Apply manual force to move the lockbar to the side and fold the blade back into the handle.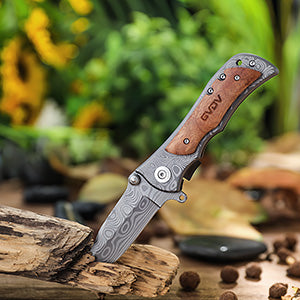 How to protect- Adorable sharpening stone for upkeep
1.After use, clean the tool thoroughly, rinse with running water, and then wipe dry with towel, cotton cloth, etc.
2.After cleaning or when not used for a long time, please wipe the blade clean, apply the knife guard oil, and put it in a dry place.
3.To extend its service life, please take good care of your knife and check the screws and bearings regularly for looseness.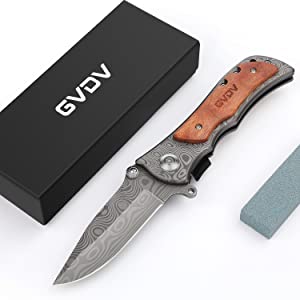 Who do you give - Best choice for gift
Wonderful Father's Day, Valentine's Day, Birthdays, and Christmas gift for Friends, Dad, Brother, Boss, Boyfriend, Husband.
Ideal gift for Hunter, Fisherman, Camping Lover.
Complimentary: whetstone, flannel bag, exquisite black gift box.
Important Tips
As the blade is extremely sharp, please do not touch it directly.
Please make sure your blade is locked securely before use.
Keep the tool stay away from children under 16 years of age who need to under adult supervision.
Specifications
| | |
| --- | --- |
| Size: | Folded 4.5 inches (115mm), unfolded 7.9 inches (200mm) |
| Weight: | 0.46 lb (210g) |
| Thickness: | 0.9 inches (23mm) |
| Hardness: | Blade 55-58HRC, accessories 45-48HRC |
| Blade material: | Stainless steel 7Cr17, titanium-plated |
| Accessories material: | Stainless steel 2cr13 |
| Handle material: | Titanium plated stainless steel, wood |

GVDV Folding Knife-HM001
$16.99